Ok so this is a reeeeeeally cool idea from Jenn over at
Peas and Crayons
- this is 'What I ate Wednesday' (WIAW)! Every Wednesday on her (very) fabulous blog, she gives a run down on what she's eaten on a specific day that week, complete with pictures. This doesn't have to be what she ate on that Wednesday, it is just on a Wednesday that it is revealed to the world... Alot of cool bloggers have joined in this fun game, and link up to Peas and Crayons sharing what
THEY
ate too, so we can all kind of spy on each other... It is SO fascinating to see what people eat, we are all rather nosey about that kind of thing, this gives the perfect excuse!
So just in case any of you are curious, here is my very first what I ate post! It doesn't look that exciting, as most of the photos are missing their salad sides or just plain missing... ahem. I was so determined to join in the WIAW fun after Jenn kindly explained how to do so in an email to me (thanks for helping me out there!), that last week I was positively bursting with excitement! Then I completely forgot about it.... Suddenly we had reached Tuesday evening, and I'd not photographed anything in the week! I'd just plain forgotten....
I did remember just after eating Tuesday nights dinner however. Not wanting to miss out today, I decided to work with what I had leftover; there was still some pie left in the dish from dinner, and, being a little slack in cleaning the dishes department, I can at least provide you with some empty plate action from earlier in the day, which is a little more interesting than the blank spaces there would have been....!
I'll do better next week, I promise... with a cherry on top... and a photograph to prove it! ;)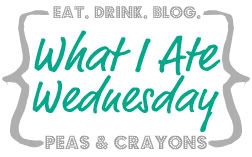 Brekkie:
large glass of water
Plain yoghurt with oats, spirulina, banana and pumpkin seeds and a cup of tea with nut 'milk'
Morning snack:
Buckwheat crispbreads with yeast extract, an apple, a big green juice (lettuce, celery and lemon)
Sorry- I don't have any evidence of this, you just have to trust me!
Lunch:
Green salad with olives and brown lentils, oil and vinegar, water, pictured here is all that was leftover!
Afternoon snack:
Tamari apricot kernals, cup of tulsi tea
Dinner:
Butternut squash and leek pie with a kamut crust, side salad, followed by pear and rhubarb crumble (with a date sweetened topping).... more water to drink :)
Evening:
Cup of chicory with nut milk!